On a crisp Saturday morning two weeks ago, I picked up my two pals Simon and Mathyou and we headed down to Calgary for an unforgettable weekend. We drove down highway 2 under an overcast sky with a sunny break in the clouds looming in the distance miraculously over top Calgary. What luck!
I've been to Calgary many times over the years but it has either been for a family function or a work related event which never lent a lot of time to fully experience the city. This weekend was all about indulging in the best that our neighbours down south had to offer and thanks to Tourism Calgary, we checked off many place on our to-do lists.
Can confirm the dog watching in this area is noteworthy. We ran into this cutie almost immediately upon our arrival.
DAY ONE
We went straight to 17th Ave – known for its boutique shopping, good coffee, and eclectic mix of restaurants. Our first stop in town was Ollia for a macaron and tea tasting. They offer both sweet and savory macarons as well as new spins on classic drinks: vanilla or chocolate London Fogs and a maple chai!
SHOPPING
After our tasting, we headed down 17th Ave to check out the boutique shopping. We didn't walk far before we were drawn into the vortex of Reids Stationers – a stationery lover's mecca. They have everything: journals, greeting cards, pug themed everything, small gifts, party supplies… the list goes on. They even had unicorn highball glasses which Mathyou went home with.
LUNCH
At this point in the day, we were ready for a proper meal (the drive down was fueled by road coffees and energy drinks – we didn't even stop at the Donut Mill!). We decided to keep it close and check out Clive Burger. Perhaps Japan did it to me, but I love a good food mascot with a face and they have a full roster of animated food friends. The weather was so mild, we were able to enjoy our meal outside while people watching (bonus: many people had dogs).
DINNER
After we powered through the day, we went back to the Fairmont Palliser to check in and take a much deserved nap. Around 7, we took a leisurely stroll to Anju, also on 17th – that avenue has everything! If you love Korean tapas and thoughtful cocktails, this is the place for you. I am still dreaming about their Spicy Scallop Sashimi and Oxtail Tortellini; everything we ate there was an absolute delight.
Did you miss my Snapchat video from the weekend? No worries. Relive day one on the left.
DAY TWO
BREAKFAST
We went to The Beltliner for breakfast which was another short walk from our hotel – apparently Calgary is more walkable than I had realized. I ordered a classic breakfast, a pretty standard fare however not at this joint! Their hashbrowns were triangularly cut, piled together, and looked like they were possibly deep fried. I was impressed to say the least, they knocked it out of the park.
What is more classic Calgary then heading up their infamous tower? It was so clear out we could see all the way to the Rocky Mountains. I even made friends with a moose.
LUNCH
What's better than one breakfast? A second breakfast of course! This was our logic when we headed to Royal Brasserie to have Eggs Benedict. The interior felt so authentically French, it was as if we had been transported back to Paris. Their salmon Eggs Benedict and caesars are amazing. Forget lunch…. second breakfast is the way to go.
THE CORE
Having had two breakfasts, we needed to get some walking in. Off to the CORE we went, Calgary's downtown mall with such luxury retailers as Holt Renfrew and soon to be Simons. There are living walls throughout the centre which isn't surprising since it's home to the Devonian Gardens! I treated myself to my favourite Diptyque candles.
EXTREME AIR PARK
I have always wanted to try out a trampoline park, some of my fondest childhood memories were from trampolining in the summer with a sprinkler underneath and Spice Girls on my CD player. Extreme Air Park was hilarious and amazing – we may have been the only adults there that were not accompanying children (perhaps because it was a Sunday afternoon?) which made it even more comical. Every so often the lights would dim, the music would get louder, and disco lighting would appear – it was a trampoline nightclub! Proceed with caution into the foam pit though, I struggled pretty hard to get out – it was totally worth it.
DINNER
Having jumped around, we had earned our dinner big time. Sunday Supper at Model Milk is a set dinner menu that changes every week. It just so happened this particular Sunday was a Korean themed tapas meal as well – we were making a weekend of it! One of their cocktail specials was a Matcha Green Tea Gin Fizz. The Bo Saam Pork Shoulder lettuce wraps were unreal, but the dessert is what killed me: Cereal Milk Ice Cream Pie. I die.
DAY THREE
BREAKFAST
Our hotel was an exceptional and integral part of our stay. Not only is the Fairmont Palliser close to everything, the actual suites were so comfortable. There's nothing I love more than a king size bed all to myself – you can slowly rotate around it like the hands of a clock, always chasing the cold spot. Their spa area is top notch with cucumber water and a relaxing hot tub. Those were all wonderful, but the real test is the quality of room service; the Fairmont never disappoints in that department.
SMITHBILT HATS
Down in Inglewood is a legendary hat company, Smithbilt, that was founded in 1919 and we were fortunate enough to get a full tour of their operations and be outfitted in their classic Calgary hat – which I proceeded to wear all day until it rained! They are still using the same tools from when they originally opened to create these hats! Unreal.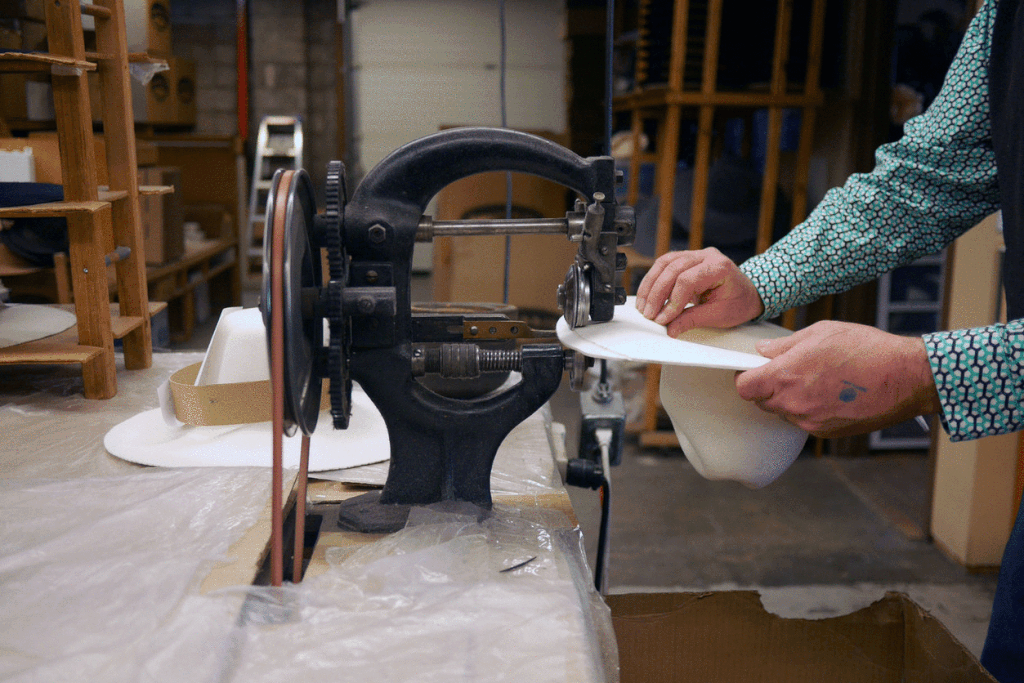 LUNCH
Our final stop on this whirlwind tour of Calgary was Native Tongues Taqueria. Did we save the best for last? Hard to say, but it was a satisfying meal. I started with a Mezcalgarita and a horchata both of which are something to write home about. One of the real standouts for me was a grilled carrot appetizer, a dish we all agreed we would have never ordered on our own accord if it hadn't been recommended to us, but one we absolutely loved. Also their mushroom tacos – incredible.
Three days went by in a flash but it was enough time to see a large part of Calgary that I had missed while distracted by other engagements in the city. I cannot wait to have a reason to go back again…. even if the reason is just that I need another horchata stat!
Photographs – Sandy Karpetz / Mathyou Garrett / Simon Underwood
This post was sponsored by Tourism Calgary.  The views and opinions expressed in this blog, however, are purely my own.